Steambaths Steam Showers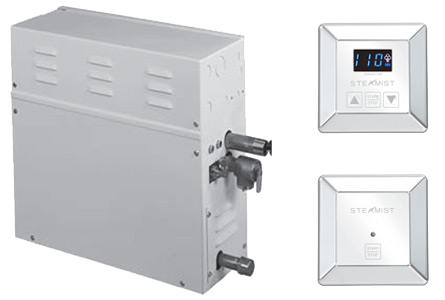 Residential Steambath Generators Steamist SM Series
Steam Shower Generator and Controls
Our most affordably priced system, the SM series steam generator provides all of steambathing's "relax, restore and renew" benefits.
The SM series is the same Steam Generator we have had for the past 15 years. It is the highest quality; durable, simple to install and easy to operate. It carries a full two year warranty on parts and labor, and beyond that a limited lifetime warranty on all parts.
The SM series is available with two controls. Each control can be used alone (inside steamroom) or in tandem for an inside/outside control system. Controls and matching steamheads are available in standard chrome or a selection of designer colors.

Optional Finishes
The SMC-150 and SMC-120 Controls and the 3199 Steamhead are available in Polished Chrome, Polished Nickel, Brushed Nickel, and Oil-Rubbed Bronze.